Our Story
Yorkshire Wolds Apple Juice Co. was founded in 2008. Now run by 3rd generation owners Jane & Jon, our juices continue to be multi-award winning. Check out our new blends and awards from the menu above.
Click here to read our story
Our Awards
We are really proud of everything that Yorkshire Wolds Apple Juice Co. has achieved over the years. With 14 different juices, 3 sryups & a Wild Elderflower cordial in the range, click below to check out our multiple awards.
Click here to view our awards
Contact Us
Visit the Contact Us page for information about how to find us or to get in touch with us.
You will also find our GDPR and privacy policy links on the contact us page.
Click here to contact us
Silver Award Winners in the 2023 York Mix Radio Choice Awards
Yorkshire Wolds Apple Juice Co. is really pleased to have recieved the Silver Awards in the 2023 York Mix Radio Choice Awards. This is a really special award as it is based soley on votes from customers. Thank You to all of our wonderful customers who took the time to vote for us. It was really pleasing to place higher than several bigger companies to get the silver position.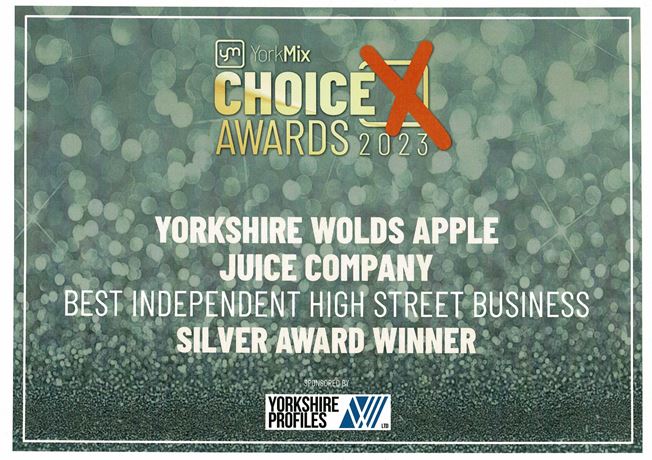 _____________________________________________________________________________________________________________________________
Latest Awards

September 2022
1* Award for Yorkshire Wolds Apple Juice Co.
We are very happy to announce that this year we entered the Great Taste Awards and recieved a 1* Award for our Breaburn Apple Juice.
learn more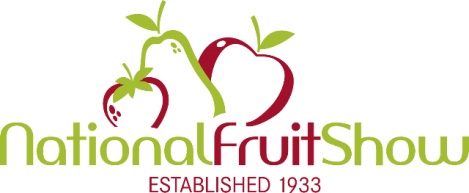 November 2022
Yorkshire Wolds Apple Juice Co. are Finalists in the Remarkable Local Producer catagory
The Remarkable East Yorkshire Tourism Awards are organised by Visit Hull and East Yorkshire to recognise the significance of tourism to this area and celebrate the quality of businesses and individuals working within it. This year we were one of only 5 finalists in the Remarkable Local Producer Award.
________________________________________
To Read our previous news articles, click below to go to the news page.
News Archive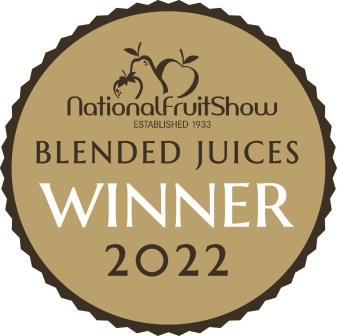 November 2022
Yorkshire Wolds Apple Juice Co. Wins 1st Prize in National Fruit Show Blended Juice Catagory
Eatablished in 1933, the National Fruit Show showcases the best of British top and soft fruit, as well as celebrating the best of juices and ciders. Judged in the garden of England, we were really excited to win the Blended Juices Catagory with our Apple & Raspberry Juice this year.
learn more
What's Going On at Yorkshire Wolds Apple Juice Co.
There is always something new going on at Yorkshire Wolds Apple Juice Co. Here are a few highlights.
Ryedale Heritage Skills Project
The Ryedale Heritage Skills Project is now live. Looking at craftspeople and artisans who are practising traditional heritage skills in the Ryedale area, the project was commissioned by Ryedale Council.

Following an exihbition at Ryedale Folk Musieum, the project called "The Handworkers" is now available to view online at:
The Handworkers
Deliciously Yorkshire Awards 2022
We entered two of our juices into the 2022 DY awards and were delighted to be finalists in the Best Cold Beverage category with our Cloudy Apple Juice. Made from Cox's apples, this multi-award winning juice is still one of my favourites for it's fantastic apple taste.
New Juice Blends for 2023
2023 saw the release of 3 new Limited Edition Blends. Apple & Damson Juice, Apple & Blackberry Juice and Apple & Ginger Juice proved to be very popular and are now sold out for this year. They will however be coming back in time for Christmas 2023.
Buy Direct from Us
NATIONWIDE DELIVERIES are available via mail order with courier delivery.

Local area deliveries are made directly by us.

The checkout process in our online shop will show you what delivery options are available for your area.

Keep an eye on our social media feeds for offers and discounts.

Thank You to all our customers new and established for continuing to support our little local business.