Yorkshire Wolds Apple Juice Co. makes award winning refreshing juices from Yorkshire & English apples and Yorkshire soft fruits, which have a characteristic cloudy appearance. All our juices are pressed and bottled in the Yorkshire Wolds.
Yorkshire Wolds Apple Juice Co. Juices contains no preservatives, colourings or sweeteners. All sugars in our juices are naturally derived. There is no added sugar in any of our juice except the Apple & Elderflower Juice and the Apple & Damson Juice, (see descriptions below).
Our juices should be stored in a cool dry place. Once opened, refrigerate & consume within 3 days.
They contain natural particles of fruit which settle on standing. Shake well before serving.
All juices have an 18 – 24 month shelf life from the date of bottling depending on the product.
For the details of all of our juices, please scroll down.
Cloudy Apple Juice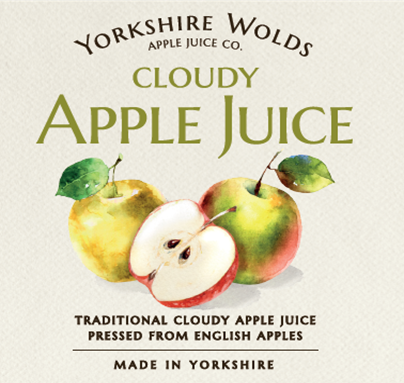 Our multi award winning traditional cloudy apple juice is pressed from English grown Cox's Orange Pippins. These apples are regarded as the finest of dessert apples and have a richness and complexity of subtle flavours, many say they are the best tasting apples in the world. These quintessential British apples produce a juice with a strong, aromatic flavour – a classic apple juice.
A refreshing juice for all occasions, delicious served on its own or makes tempting cocktails with gin, vodka and prosecco for special occasions.
It is available in 2 sizes:
75cl Bottle – Bar Code 5060570930010
25cl Bottle – Bar Code 5060570930003
---
Pear & Apple Juice
Our Pear and Apple juice is a perfectly balanced blend of sweet Conference pear, scrumptious Cox's Orange Pippin and crisp Bramley apple juices which deliciously complement each other. A bold sweeter juice that tastes pure and natural, full of vibrant, ripe English orchard fruit flavours.
Start your day with a large glass at breakfast or enjoy all through the day for a thirst-quenching drink.
It is available in 1 size:
75cl Bottle – Bar Code 5060570930096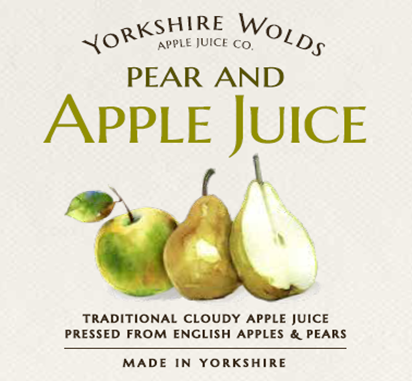 ---
Yorkshire Apple Juice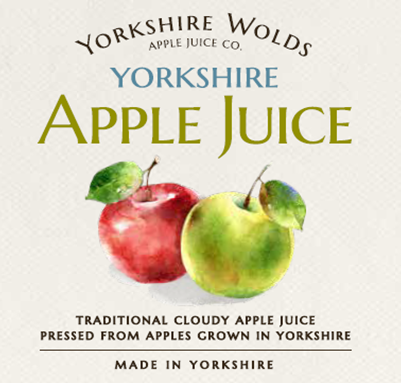 Our Yorkshire blend juice is pressed from a variety of desert and culinary apples grown and hand-picked here in Yorkshire. Each small batch is unique in its flavour and colour depending on the varieties of apples pressed. Typically our Yorkshire blend has a refreshing flavour with a bit of "Yorkshire Bite".
The table below shows where the fruit for each batch of juice came from.
It is available in 1 size:
75cl Bottle – Bar Code 5060570930126
| | | |
| --- | --- | --- |
| Production Year | Batch Number | Fruit sourced from |
| 2023 | B801 | Heworth |
| 2023 | B802 | Helmsley |
| 2023 | B803 | Malton |
---
Bramley Apple Juice
Bramley apples are a famous, traditional, culinary apple and are known for their excellent flavour, this juice has the distinctive crispness that you would expect from a Bramley.
A refreshing juice that makes a wonderfully tangy breakfast drink and it's perfect for those who prefer a little more sharpness in their juice. The crispness of this classic apple makes it a wonderful juice to enjoy with food, especially delicious with cheese.
It is available in 1 size:
75cl Bottle – Bar Code 5060570930102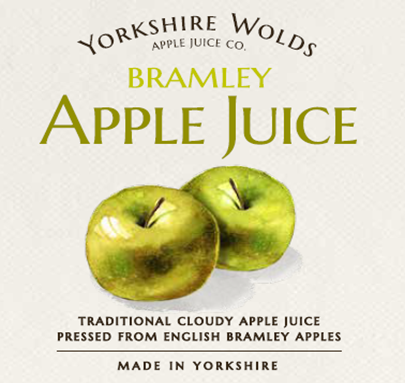 ---
Sweet Variety Apple Juice – Out of Stock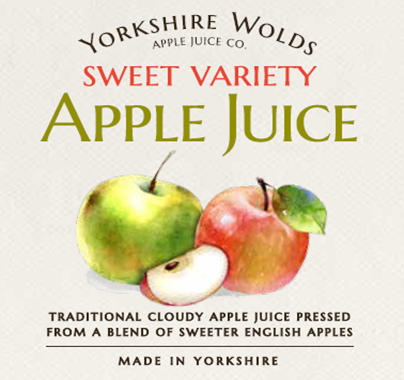 Our sweet variety apple juice is pressed from a blend of sweeter English apples, including Gala and Braeburn. Gala apples are a reliably sweet apple and Braeburns have a slightly sharper, more refreshing flavour with a good balance of sweetness. Using a blend of apples produces a juice that is naturally sweet and lighter in flavour. Each batch is unique in its flavour and colour depending on the varieties pressed.
Hitting the perfect balance of soft light appliness, this juice is a favourite to enjoy as a tall drink with sparkling water or for special occasions serve with champagne "fizz".
It is available in 1 size:
75cl Bottle – Bar Code 5060570930119
---
Apple & Raspberry Juice
Raspberries are a favourite summer fruit of ours and their natural tanginess makes them a perfect fruit to pair with apple. We juice the most mouth-watering Yorkshire raspberries to create an exquisite juice that's simply bursting with their intense, vibrant flavour with complementary background of sweet, zesty applyness.
Perfect to enjoy in a tall glass, served over ice, garnished with fresh raspberries.
It is available in 2 sizes:
75cl Bottle – Bar Code 5060570930041
25cl Bottle – Bar Code 5060570930058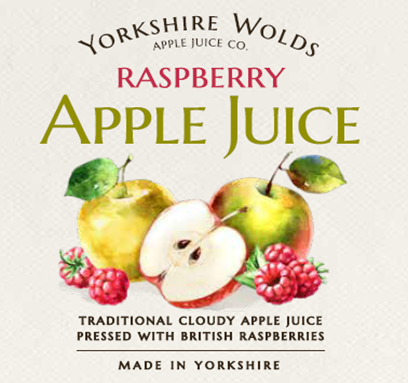 ---
Apple & Rhubarb Juice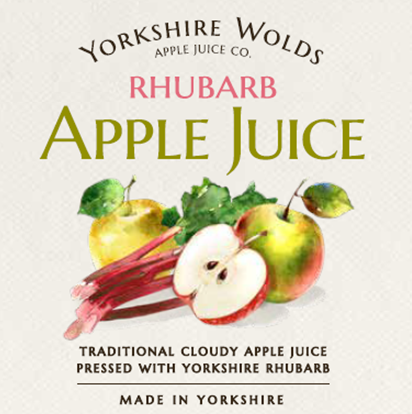 Rhubarb lovers know that the best rhubarb in the world is grown in the legendary "Yorkshire Rhubarb Triangle" so we just had to produce a juice with it. Two British "superstar" flavours come together in this classic juice combination. A mouth-watering blend of our rhubarb and Cloudy Apple juices makes for an extremely moreish juice.
It really is a taste of Yorkshire – too good to enjoy any other way than simply on its own.
It is available in 1 size:
75cl Bottle – Bar Code 5060570930027
---
Apple & Elderflower Juice
Beautiful elderflower blossoms are picked by us from our local Yorkshire hedgerows on warm, early summer days when their scent is at its best. We then use these blossoms to make our own aromatic cordial to add to our Cloudy Apple juice. This delicately fragrant juice delivers a fresh, sweet, summer sensation from the very first sip.
Try serving with fish or white meat dishes; excellent for adding flavour to fruit salads or used as a mixer.
Contains 2% Elderflower Cordial which contains sugar.
It is available in 2 sizes:
75cl Bottle – Bar Code 5060570930034
25cl Bottle – Bar Code 5060570930072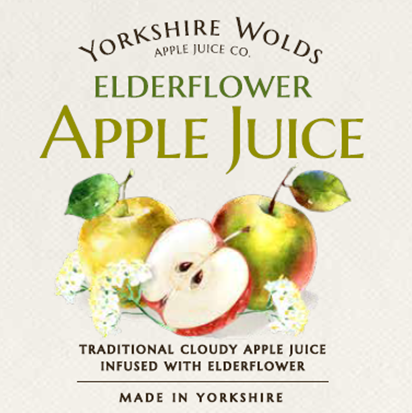 ---
Apple & Strawberry Juice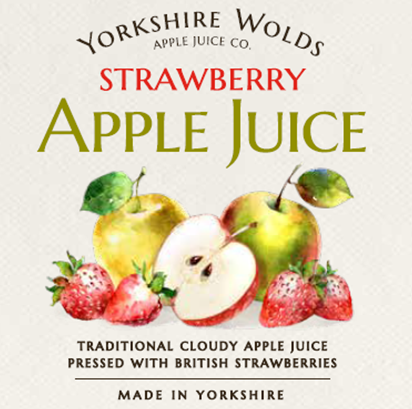 What more classic taste of English summer is there than plump, juicy strawberries? We juice the ripest, most scrumptious Yorkshire strawberries to blend with our Cloudy Apple juice, ensuring that this delicious summer drink is a sublime combination of luscious, sweet strawberry and crisp apple.
This tempting blend of juices is delicious in summer cocktails and punches garnished with sumptuous, seasonal fruits and is also perfect for making refreshing ice lollies.
It is available in 2 sizes:
75cl Bottle – Bar Code 5060570930133
25cl Bottle – Bar Code 5060570930195
---
Spiced Apple Juice
A temptingly aromatic apple juice infused with warming winter spices. Cinnamon, nutmeg and clove add a distinctive mulled flavour which works perfectly with the rich apple flavour of traditional apple juice.
Absolutely delicious served hot, garnished with some orange peel and a cinnamon stick sat by the fire after a bracing autumn walk. It's also a fantastic festive alternative to mulled wine and pairs wonderfully with a dash of brandy or cognac for the grown-ups.
This juice contains ground particles of spices. Some people prefer to let these settle to the bottom of the glass / cup and discard them instead of drinking them.
It is available in 1 size:
75cl Bottle – Bar Code 5060570930089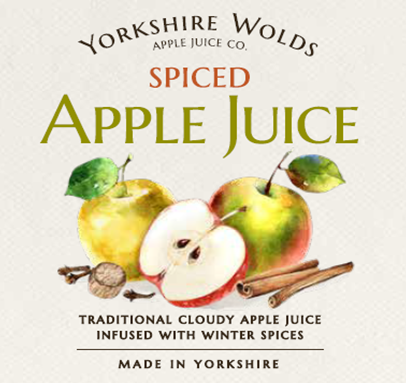 ---
Braeburn Apple Juice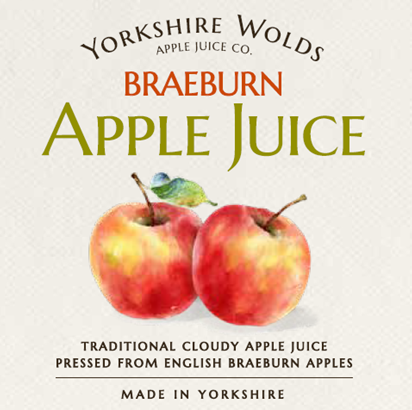 Juicy Braeburn apples have a well –balanced, rich flavour with just enough tang to match their sweetness and are also known for having a burst of flavour when bitten into. Our traditional juice lets all the refreshing qualities of the popular Braeburn apple shine through – it's simple, crisp and refreshing.
Simply enjoy ice cold.
It is available in 1 size:
75cl Bottle – Bar Code 5060570930140
---
Apple & Blackberry Juice
Who doesn't love the quintessential English combination of juicy apples and plump blackberries? We forage our local hedgerows for the most succulent blackberry's to blend into a mouth-watering juice that bursts with the taste of late English Summer.
It is available in 1 size:
75cl Bottle – Bar Code 5060570930157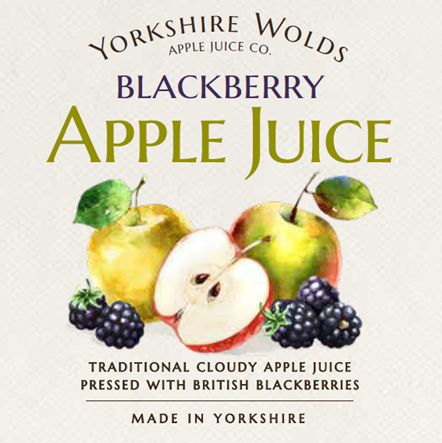 ---
Apple & Damson Juice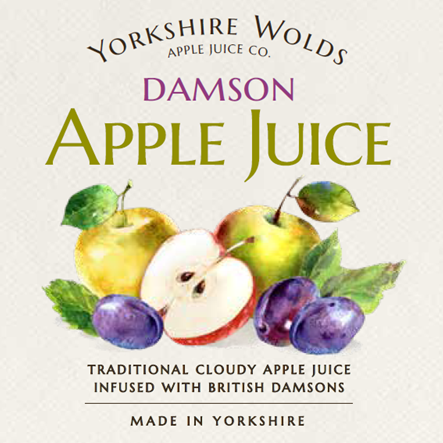 Damsons left to ripen on the tree until soft are a perfect taste of early Autumn. We pick local Yorkshire damsons to make our own scrumptiously sweet damson cordial which is blended with our luscious cloudy apple juice to make a delightfully autumnal juice. The sweet fruitiness of this juice makes it perfect to serve with gin or vodka.
It is available in 1 size:
75cl Bottle – Bar Code 5060570930164
---
Apple & Ginger Juice
A fantastic combination of sweet apple and fiery ginger. We have blended our original cloudy apple juice with just the right amount of zingy ginger to create a juice with a gentle warming kick. A perfect pick me up to start the day.
Serve with sparkling water & crushed ice as a summer cooler, or gently heated for a winter warmer.
It is available in 1 size:
75cl Bottle – Bar Code 5060570930171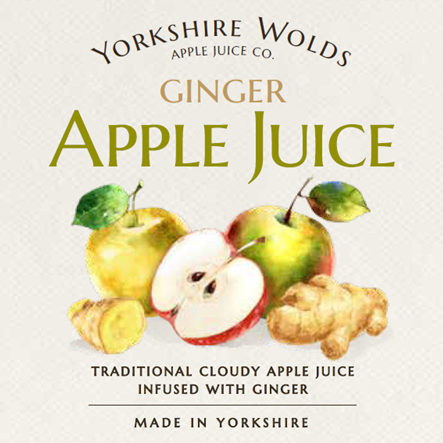 ---
Nutritional Information – Typical Values per 100ml